Multisizer 4e
Conteggio e determinazione della dimensione delle particelle con risoluzione estremamente elevata
Grazie al processore digitale di Multisizer 4, il metodo classico di misura dell'impedenza (ISO 13319), inventato da Wallace Coulter nel 1953, è stato completamente convertito in digitale. Questo permette di raggiungere velocità di registrazione superiori a 500.000 impulsi per analisi.
Un dispositivo innovativo consente la distribuzione dei volumi analitici per la misura. Il volume misurato è determinato con precisione per mezzo di una pompa a membrana, e un schema funzionale permette il controllo dello strumento
In questo modo i vantaggi del metodo di misura dell'impedenza, come l'osservazione delle particelle in tre dimensioni (indipendentemente dalla forma e dal colore), e la risoluzione estremamente elevata si accompagnano a un utilizzo moderno con procedure operative standard.
Il software Multisizer 3, conforme a 21 CFR Parte 11, offre anche numerose altre funzioni di garanzia di qualità.
Explore Multisizer 4e Models
Caratteristiche
Caratteristiche dell'apparecchio
Intervallo di misura: da 0,4 nm a 1.600 μm (diametro)
Intervallo dinamico: da 2 a 80% dell'apertura della provetta (da 2 a 60%)
Velocità di conteggio massima: 500.000 particelle
Volume di analisi minimo: 50 µl o 0,1 s
Processore digitale di impulsi
Registrazione completa di tutti gli impulsi in forma digitale
Analisi della distribuzione e degli impulsi in larghezza e in altezza
Registrazione di 500.000 impulsi in tempo reale (tracciati)
Ricalcolo ulteriore della distribuzione delle particelle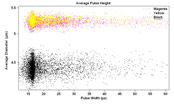 Software
Visualizzazione della distribuzione in base a numero, superficie e volume (valore assoluto, /ml, %)
Utilizzo di cursori orizzontali, verticali e di intervallo
Comando automatico per le procedure operative standard (SOP)
Visualizzazione diretta degli impulsi (larghezza, altezza, numero)
Conformità a 21 CFR Parte 11, programma V-Check per SQ, DQ, OQ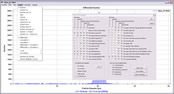 Applicazioni
Pigmenti, abrasivi, emulsioni, materiali cromatografici, polimeri, toner, batteri
vaccini, depositi su filtro, lieviti, mosti, biotecnologie, contaminazioni dell'acqua
principi attivi, polvere di ceramica, varie cellule biologiche, cosmetici
Tabella delle specifiche
| | |
| --- | --- |
| Industry Standards | 21 CFR Part 11 |
| Particle Size Analysis Range | 0.20|1,600.00|μm in diameter |
| Sample Volume | 4 - 400 mL |
| Fluid Compatibility | All aqueous and non-aqueous electrolyte solutions devised for use with aperture technology are suitable for use with the Multisizer 4e. Electrolytes should be compatible with glass, fluoropolymers, fluoroelastomers, and stainless steel. |
| Linearity | Linearity for 2% - 60% of aperture diameter: ± 1% for diameter, ± 3% for volume |
| Aperture Diameter Range | 10 µm to to 2000 µm to |
| Digital Pulse Processor | Proprietary high-speed digitization of the signal |
| Volumetric Mode | Continuously selectable from 50 µL-2,000 µL |
| Volumetric Pump Accuracy | >99.5% |
| Item Specifications Referenced | B43905 |
Documenti tecnici
Didn't find what you are looking for? For more results click
qui.