Custom Design Services

Se ad oggi non siamo in grado di fornirvi il prodotto di cui avete bisogno, i nostri esperti possono crearvi un pannello ottimizzato che soddisferà le vostre specifiche richieste
| | |
| --- | --- |
| | Che voi abbiate bisogno di un coniugato non presente fra i più dei 630 anticorpi umani RUO - o della coniugazione di uno dei vostri - possiamo offrirvi una opzione accessibile per tutti i vostri progetti sperimentali |
Coniugazioni singolo colore
Combinazioni di miscele multi-coniugate
Bulk di anticorpi purificati (Specificate concentrazione e tampone)
Esclusivo DURA Innovations essiccati (non liofilizzati) reagenti custom personalizzati
Stabili a temperatura ambiente (18°C – 23°C)
Garanzia 18 mesi
Include kit di compensazione relativo al lotto
i nostri esperti possono creare una miscela personalizzata per ottenere le informazioni che desiderate
Quantità minima ordinabile per prodotti Custom*
Provenienza anticorpo
Liquido purificato
1 mg
Anticorpo Beckman Coulter Life Sciences o anticorpo fornito dal clinte da qualsiasi altro fornitore
Liquid0 coniugato
500 test
Cocktail liquido
≥ 500 tests
(Pre-lot di 50 tests per validazione)
Anticorpo Coniugato Beckman Coulter Life Sciences o anticorpo coniugato fornito dal cliente coniugazione da qualsiasi altro fornitore
DURA Innovations dry reagents
≥ 200
(Ordine per ≥ 500 tess include pre-lot di 25 test per validazione)
Ordini: processo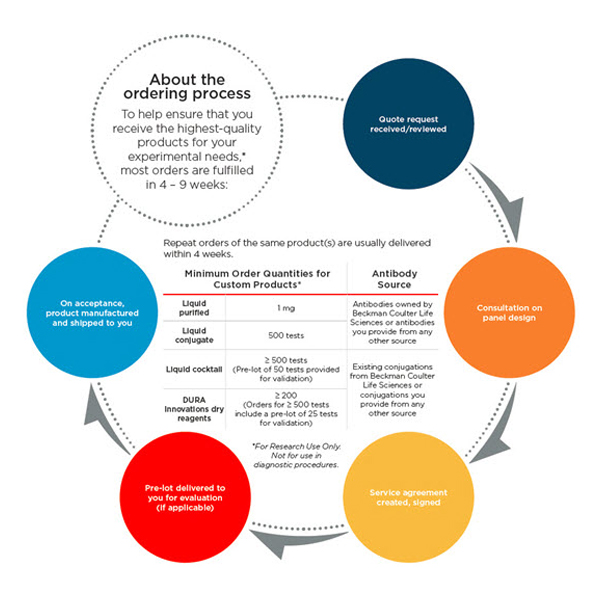 Ordini ripetuti dello stesso prodotto sono consegnati come previsto e riportato nella parte dedicata del contratto oppure devono essere riordinati con un preavviso di 9 settimane.
*Questi prodotti non hanno stato regolatorio, è responsabilità del cliente validare il prodotto. **Disponibile solo negli Stati Uniti. Se fuoridagli Stati Uniti, contattare il rappresentatnte locale Beckman Coulter Life Sciences se interessati a questo servizio nel paese di residenza.
**GMP definito come ISO 13485
*Per uso ricerca. Non per uso diagnostico in vitro.

If we don't currently offer the product you need, our panel design experts can create an optimized panel that clearly meets your specific criteria.
| | |
| --- | --- |
| | Whether you need a different conjugate of one of our 630+ ASR-labeled human antibodies—or a custom conjugation of one of your own—we can provide affordable options for all your experimental design requirements. |
DRY Format

Dry (not lyophilized) custom reagents using the
DURA Innovations technology
Available in tube or microplate format as reagent reservoir
Optimized, multi-conjugate combinations
Stable at room temperature (18°C – 30°C)
Warrantied for 18 months
Includes Universal Compensation Kit

LIQUID Format

Single-color conjugations
Optimized, multi-conjugate combinations
Bulk purified antibodies (you specify concentration and buffer)

Compare LUCID with other Custom Reagent Services.
With a spectrum of multicolor options for you to choose from, our panel design experts can create a custom cocktail to clearly deliver the information you seek.
Minimum Order Quantities for Custom Products*
Antibody Source
Liquid purified
1 mg
Antibodies owned by Beckman Coulter Life Sciences or antibodies you provide from any other source
Liquid conjugate
500 tests
Liquid cocktail
≥ 500 tests
(Pre-lot of 50 tests provided for validation)
Existing conjugations from Beckman Coulter Life Sciences or conjugations you provide from any other source
DURA Innovations dry reagents

12 x 75mm Tubes
≥ 200 tests
Orders for ≥ 500 tests include a pre-lot of 25 tests for validation

≥ 2 Kits (4 Plates x 96 tests)

Orders include a pre-lot of 1 x 96-well microplate for validation
About the ordering process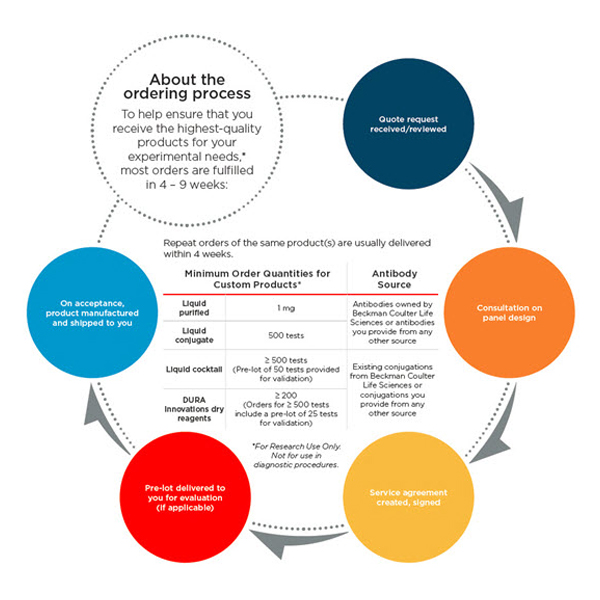 Repeat orders of the same products are delivered on the requested date if prior intimation of the delivery is mentioned at the time of signing the contract or an advance notice of 9 weeks is provided.
*For Research Use Only. Not for use in diagnostic procedures.