Biomek NGeniuS Next Generation Library Prep System
Biomek NGeniuS è un manipolatore di liquidi affidabile, facile da usare e costruito appositamente per la preparazione di librerie NGS. Biomek NGeniuS è ideale per i laboratori che richiedono una maggiore versatlità e riduzione del lavoro manuale. Il software facile da utilizzare non richiede competenze di programmazione sofisticate, rendendo facile l'impostazione e l'esecuzione.
Riduzione degli errori con Dynamic DeckOptix che guida il posizionamento dei materiali di laboratorio
Aumenta il tempo di autonomia grazie al termociclatore integrato, alla capacità di movimento di materiali e di aliquotazione dei reagenti
Il nuovo software Biomek NGeniuS consente l'impostazione virtuale dei batch e il monitoraggio del sistema
Un'ampia libreria di protocolli di preparazione dei campioni NGS comprovati e gratuiti per lavorare in maniera più rapida
Explore Biomek NGeniuS Models
Caratteristiche di Biomek NGeniuS
Riduzione degli errori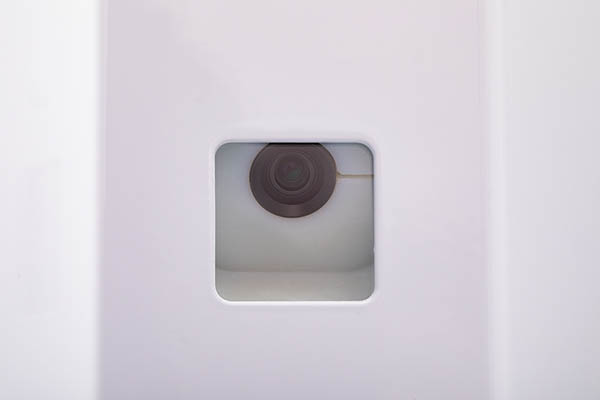 Dynamic DeckOptix si avvale di sofisticate analisi ottiche per fornire un feedback in tempo reale sul posizionamento dei materiali, confermando tramite software il corretto posizionamento per eliminare virtualmente gli errori di caricamento
Il sistema di identificazione dei reagenti utilizza un'avanzata tecnologia di riconoscimento ottico dei caratteri per la conferma dei reagenti e il rilevamento degli errori prima che i reagenti vengano utilizzati
Riduzione del lavoro manuale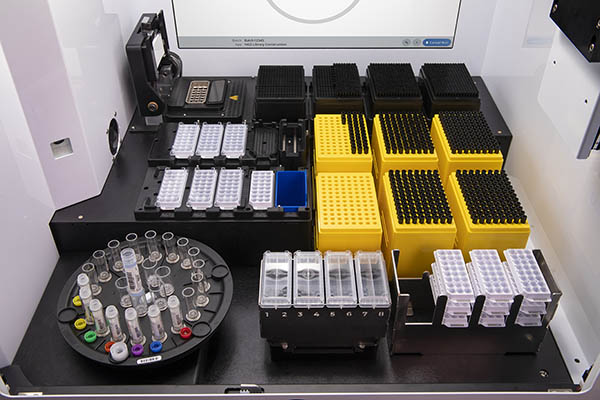 Il sistema di gestione dei reagenti include il carosello innovativo e zone di stoccaggio dei reagenti a temperatura controllata, riducendo al minimo le fasi di pipettaggio non necessarie e limitando l'esposizione dei reagenti all'ambiente esterno
Il termociclatore incluso riduce i tempi di lavoro per i protocolli NGS
Il sistema di movimentazione dei materiali da laboratorio nello strumento estende i tempi di autonomia e consente l'esecuzione completa dei protocolli
La testina di pipettaggio è compatibile con puntali da 96 e 384 configurati senza bisogno di strumenti o di sostituire la testina
Semplicità di utilizzo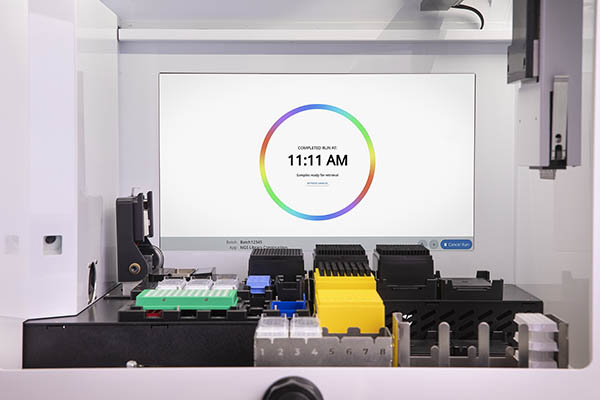 Il software del portale Biomek NGeniuS consente l'impostazione di batch e il monitoraggio da qualsiasi luogo utilizzando Google Chrome o Microsoft Edge
Il processo di impostazione dei batch di Biomek NGeniuS comprende sei semplici passaggi e non richiede competenze di programmazione
Biomek NGeniuS Work Aid consente di generare una check list per la selezione e la preparazione dei reagenti e del materiale di laboratorio
Software Input Dial semplifica la programmazione dello strumento
Il display da 24" a portata d'occhio facilita la visulizzazione senza distrazione
Segnali luminosi multicolore visualizzabili a 360°permettonodi monitorare lo stato dello strumento
Versatilità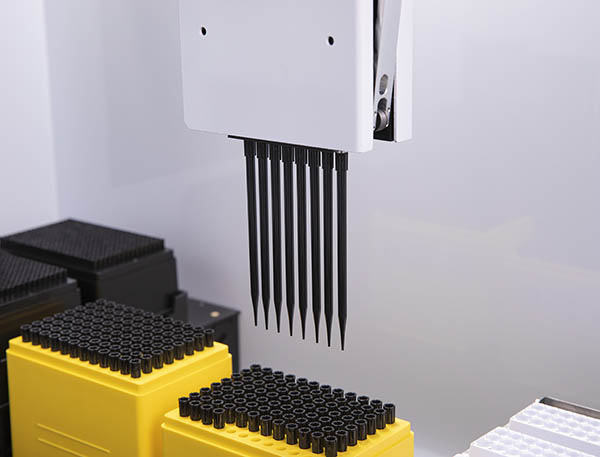 Consente di eseguire qualsiasi numero di campioni, da 4 a 24, riducendo al minimo gli sprechi di reagenti e garantendo i tempi di lavoro compatibili con le esigenze dei vostri clienti
La libreria gratuita di metodi dimostrati di preparazione delle librerie NGS per il sequenziamento del DNA e dell'RNA e la possibilità di utilizzare confezioni di puntali parzialmente utilizzate consentono di ridurre gli sprechi di puntali o e di evitare di trasferire manualmente i puntali per ottimizzare l'uso dei puntali
Metodi automatizzati di preparazione dei campioni di sequenziamento di nuova generazione
Biomek NGeniuS viene fornito con un ampio elenco di metodi di preparazione delle librerie NGS dimostrati e complementari. Collaboriamo con i produttori di kit di reagenti per automatizzare i protocolli dei kit utilizzando specifici campioni, per fornire dati equivalenti a quelli descritti nella letteratura pubblicata dal produttore del kit. Il nostro impegno ad ampliare continuamente il portfolio di metodi vi garantisce di avere a disposizione un'ampia gamma di metodi di preparazione di librerie NGS tra cui scegliere.

Metodi validati:

Illumina DNA Prep
Roche KAPA HyperPlus
Roche KAPA HyperPrep
NEB Ultra II RNA
xGen™ cfDNA & FFPE DNA Lib Prep Kit
*Agilent SureSelect XT Human All Exon v6
Documenti tecnici
Didn't find what you are looking for? For more results click
qui.
IMPORTANT: Beckman Coulter makes no warranties of any kind whatsoever express or implied, with respect to this App Template, including but not limited to warranties of fitness for a particular purpose or merchantability or that the App Template is non-infringing. All warranties are expressly disclaimed. Your use of the App Template is solely at your own risk, without recourse to Beckman Coulter. This App Template has been demonstrated for use on the Biomek NGeniuS system for the chemistry kit version and the release date shown at the time when the App is selected and created, but has not been validated by Beckman Coulter for use in the diagnosis of disease or other clinical conditions.
Products and demonstrated applications are not intended or validated for use in diagnostic procedures.
©2022 Beckman Coulter, Inc. All rights reserved. Beckman Coulter, the Stylized Logo, and Beckman Coulter product and service marks mentioned herein, including Biomek and Biomek NGeniuS, are trademarks or registered trademarks of Beckman Coulter, Inc. in the United States and other countries. All other trademarks are the property of their respective owners.