Panoramica ultracentrifugazione analitica
Ultracentrifugazione analitica (AUC) per la caratterizzazione della macromolecola in soluzione
L'ultracentrifugazione analitica (AUC) è la tecnologia più versatile, rigorosa ed accurata per la determinazione del peso molecolare e delle proprietà idrodinamiche e termodinamiche di una proteina o di altre macromolecole. 
Sebbene la sua storia risalga a circa un secolo fa, la AUC è:
Una tecnica autonoma di primo principio eseguita in un ambiente privo di matrice che non richiede standard.
Non superata da nessun'altra tecnica nel fornire la stessa quantità di informazioni con un livello di precisione ed accuratezza comparabile. 
Il metodo gold standard per la determinazione del peso molecolare delle proteine in soluzione2. 
AUC 101: creare una comprensione basata su velocità ed equilibrio
A differenza di altri metodi usati per analizzare le macromolecole, l'ultracentrifugazione analitica (AUC) permette la caratterizzazione dei campioni nel loro stato nativo a condizioni di soluzione biologicamente rilevanti. La AUC può essere usata per indagare quasi qualsiasi tipo di molecola o particella in un ampia gamma di concentrazioni e in una diversa varietà di solventi. Per molte domande di ricerca non esiste un sostituto analitico soddisfacente dell'AUC.1
La AUC dà ai ricercatori due punti di vista complementari sul comportamento di una soluzione. La velocità di sedimentazione fornisce informazioni di primo principio idrodinamiche sulle dimensioni e sulla forma delle molecole. L'equilibrio di sedimentazione fornisce lo stesso tipo di informazione relative alle masse molari, alle stechiometrie, alle costanti di associazione e non idealità della soluzione.
Ancora domande? Ancora risposte.
In un esperimento, la tecnologia AUC può dare più risposte a domande critiche di qualsiasi altra tecnica confrontabile:
Forma:Che sfericità ha la mia proteina?
Diametro: Quali sono le dimensioni della mia particella?
Massa: Qual è il peso molecolare della mia proteina o complesso in soluzione?
Stechiometria: Quante subunità contiene la mia proteina?
Purezza: Esistono altre particelle nel mio campione?
Composizione: Come si comporta la mia proteina in questo tampone?
Eterogeneità: La mia proteina è legata ad altre molecole e qual è la configurazione del complesso?
Aggregazione: La mia proteina ha ancora una forma usabile? Devo aspettare una risposta immunitaria alla composizione del mio farmaco?
Associazione: La mia proteina si associa e/o si disassocia con altre proteine?
Conformazione:  La conformazione della mia proteina cambia quando si lega a un legante?
Maggiori informazioni sull'AUC sono riportate nel nostro manuale Introduzione all'ultracentrifugazione analitica.
Bibliografia
1 Cole JL, Lary JW, Moody T, et al. Ultracentrifugazione analitica: Sedimentation Velocity and Sedimentation Equilibrium. Methods Cell Biol 2008;84:143–79.
2 Berkowitz S, Philo J. Characterizing Biopharmaceuticals using Analytical Ultracentrifugation. In: Houde D, Berkowitz S, editori. Biophysical Characterization of Proteins in Developing Biopharmaceuticals. Amsterdam: Elsevier; 2015. pagg. 211-260.
Che cosa è un'ultracentrifuga analitica?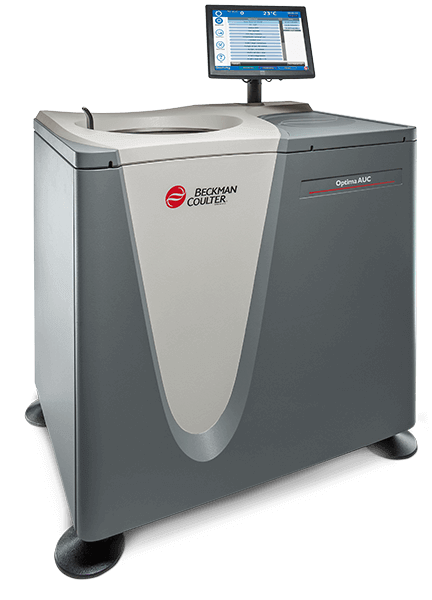 Un'ultracentrifuga analitica è simile a una centrifuga preparativa ad alta velocità, ad eccezione del fatto che le particelle nel campione testato sono monitorate in tempo reale da un sistema di rilevamento ottico integrato. Questi sistemi ottici (assorbanza UV-Vis e interferenza Rayleigh) permettono un'osservazione precisa del comportamento della soluzione di molecole nel momento in cui sono soggette a sedimentazione. Mediante un software innovativo, i dati possono essere utilizzati per un'analisi esaustiva delle molecole nel campione in studio.