AMPure XP for PCR Purification
Cleanup and Size Selection
You can use our proprietary SPRI paramagnetic bead-based chemistry to remove contaminants (dNTPs, salts, primers, primer dimers) throughout your NGS workflows.
Used in a variety of NGS library prep chemistries
Compatible with manual and automated processing
High recovery of amplicons > 100 bp
Predictable and consistent size selection
AMPure XP Workflow

Product Specifications
| | |
| --- | --- |
| Application Uses | Purification & Clean-up, PCR Purification, DNA Purification, Sequencing, NGS Clean-up, PCR clean-up |
| Format | Liquid |
| Starting Sample Material | DNA |
| | |
| --- | --- |
| Automated Available | Yes |
| Item Specifications Referenced | A63882 |
Don't Lose Critical Data
When so much more has been invested in your research, AMPure XP is the only choice for purification and clean-up steps. Loss of yield during this critical step leads to loss of discovery in your research.

Relative costs of the different steps required to perform various NGS applications. Steps include Extraction, Library Construction, Library Enrichment, Clean-up, and Sequencing. Costs were calculated based on average list price of commercially available kits and reagents in 2017. Clean-up efficiencies were calculated by determining the total DNA yield by Picogreen Assay after performing a clean-up procedure on a known amount of DNA. The percent yield relative to AMPure XP performance was then used to calculate the impact of efficiency on various commercially available library construction methods and a change in purification reagent.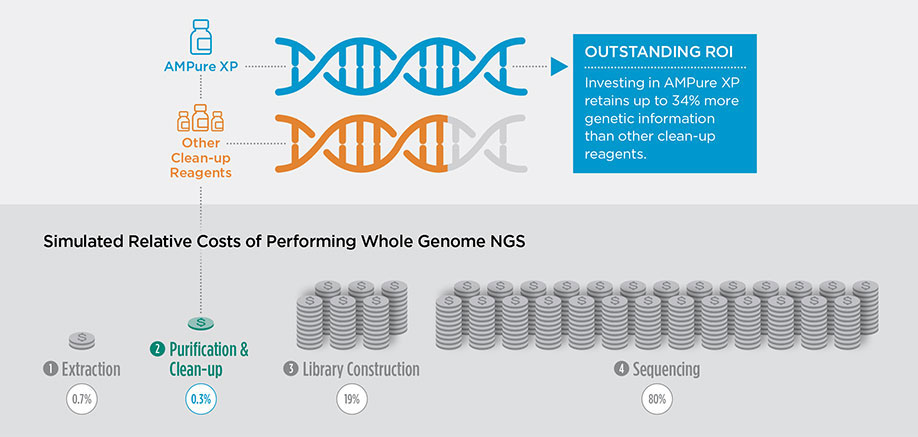 Technical Documents