AMPure XP per la purificazione della PCR
Selezione delle dimensioni e pulizia
Si può usare il nostro prodotto chimico basato su biglie paramagnetiche SPRI brevettate per rimuovere i contaminanti (dNTP, sali, primer, dimeri di primer) nei propri flussi di lavoro di sequenziamento di nuova generazione (Next-Generation Sequencing, NGS).
Utilizzato in una serie di prodotti chimici per la preparazione di librerie NGS
Compatibile con l'elaborazione manuale e automatizzata
Elevato recupero di ampliconi >100 bp
Selezione delle dimensioni prevedibile e uniforme
È necessario un certificato di analisi (Certificate Of Analysis, COA)? Utilizzare la barra di ricerca nella parte superiore della pagina e cercare il numero di lotto.
Prodotti genomici AMPure XP
Flusso di lavoro di AMPure XP

Specifiche del prodotto
| | |
| --- | --- |
| Application Uses | Purification & Clean-up, PCR Purification, DNA Purification, Sequencing, NGS Clean-up, PCR clean-up |
| Format | Liquid |
| Starting Sample Material | DNA |
| | |
| --- | --- |
| Automated Available | Yes |
| Item Specifications Referenced | A63882 |
Citazioni
Peffers, M. J., Liu, X., & Clegg, P. D. (8 marzo 2014). Transcriptomic profiling of cartilage ageing. Genomics Data, 2, 27-28. doi:10.1016/j.gdata.2014.03.0011
Utilizzato per la pulizia del cDNA
Greenwald, W. W., Li, H., Benaglio, P., Jakubosky, D., Matsui, H., Schmitt, A., . . . Frazer, K. A. (5 marzo 2019). Subtle changes in chromatin loop contact propensity are associated with differential gene regulation and expression. Nature Communications, 10(1054), 1-17. doi:https://doi.org/10.1038/s41467-019-08940-51
Utilizzato per la pulizia delle reazioni PCR con codice a barre durante la preparazione della libreria
Non perdere dati critici
Quando hai investito così tanto nella ricerca, AMPure XP è l'unica scelta per le fasi di purificazione e pulizia. La perdita di rendimento durante questa fase cruciale porta a mancate scoperte nella ricerca.

Costi relativi dei vari passaggi necessari per eseguire più applicazioni NGS. Tali passaggi includono estrazione, costruzione delle librerie, ampliamento delle librerie, pulizia e sequenziamento. I costi sono stati calcolati in base al listino prezzi medio di kit e reagenti disponibili in commercio nel 2017. L'efficienza della pulizia è stata calcolata determinando il rendimento totale del DNA dell'analisi Picogreen dopo l'esecuzione di una procedura di pulizia su una quantità nota di DNA. La percentuale di rendimento in relazione alle prestazioni di AMPure XP è stata quindi utilizzata per calcolare l'impatto dell'efficienza su vari metodi di costruzione delle librerie disponibili in commercio e di un cambiamento nel reagente di purificazione.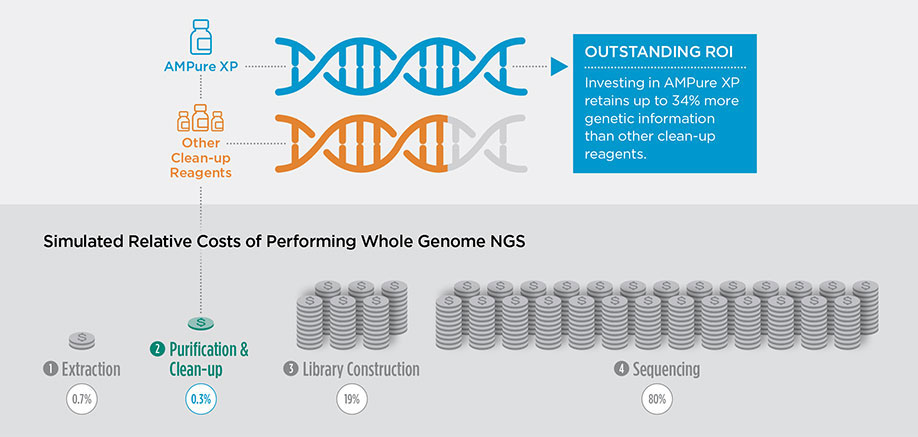 AMPure XP è lo standard di riferimento per la pulizia a base di biglie nel sequenziamento di nuova generazione (NGS)
Più di 200 kit di preparazione di librerie raccomandano l'uso di AMPure XP, tra cui i kit di aziende affidabili che si occupano di sequenziamento:
Illumina®
Nanopore
PacBio
Thermo Scientific
AMPure XP è stato utilizzato in oltre 15.000 pubblicazioni, citate in articoli su Science, Nature e PNAS.
La pulizia e la purificazione dell'acido nucleico sono obbligatorie per le applicazioni genomiche, tra cui sequenziamento, qPCR/ddPCR/PCR e microarray. Massimizzando il recupero, l'uniformità e la velocità, AMPure XP soddisfa le severe esigenze delle applicazioni genomiche contemporanee e minimizza il rischio di perdere importanti informazioni genetiche.
Elevato recupero di ampliconi, maggiore di 100 bp
Rimozione efficiente di dNTP non incorporati, primer, dimeri di primer, sali e altri contaminanti
Selezione delle dimensioni prevedibile e uniforme
"I nostri risultati suggeriscono che AMPure XP potrebbe essere la scelta migliore per analisi che richiedono un rigore analitico molto elevato". Mikheikin, A., Olsen, A., Picco, L. et al. High-speed atomic force microscopy revealing contamination in DNA purification systems. Anal. Chem. 88:5, 2527-2523 (2016) doi: 10.1021/acs.analchem.5b04023.1
1. Dichiarazione di non responsabilità: Beckman Coulter non offre garanzie di alcun tipo, esplicite o implicite, in merito a questo protocollo, incluse ma non limitate alle garanzie di idoneità per uno scopo particolare o alla commerciabilità o alla conformità del protocollo. Tutte le garanzie sono espressamente escluse. L'utilizzo del metodo è esclusivamente a rischio del cliente, senza ricorso a Beckman Coulter. Senza indicazione o convalida per l'uso nella diagnosi delle malattie o di altre condizioni. Questo protocollo è a solo scopo dimostrativo e non è convalidato da Beckman Coulter.
Documenti tecnici